BigPicture HistoryBlast
BigTime: The bigger the picture the more important the history.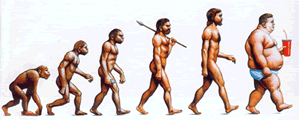 Participate in a 10,000 year epic drama in which you determine the outcome! Experience global history as a participant, not a passive observer or victim.
History is the context of globalization, climate change, you—and everything else happening on our planet. This program begins with a short movie and then proceeds to deal with the history of the world from 4.5 billion years ago to the present.

The BigPicture HistoryBlast puts students in charge of history as they re-enact the 4.5 billion year story of our planet. Working is small groups, students put on short skits for each major benchmark in history's incredible show. This fast-paced show of shows involves everyone in a creative, fun and funny, action packed thriller. And the HistoryBlast doesn't stop at the present, it pauses, and then moves right on into the future as students are asked to create what they see and want the future to be.
The audience of the HistoryBlast is transformed into actors and the creators of a timeline that chronicles the growth of human population, technology, life expectancy, communication and transportation advances, energy use and other indicators critical to an understanding of today's world. World history was never so exciting—and involving. U.S. history from a global perspective was never more informing. Fun, involving, learning packed experience students will talk about for months.
For more information and booking: or call toll free 1-866-820-8133